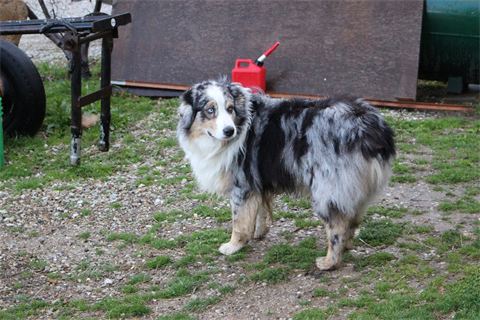 JJ Cinch Em Up Cowboy - Male
AKC, ASCA
Meet Cinch! He is our resident stud dog, goofball, lover and trail companion! Cinch has many wonderful qualities that we have been delighted to pass along to his offspring. He has one of the most wonderful personalities that we've seen in an Australian Shepherd. He is friendly, loyal, laid-back yet ready for anything and he's a big goon. You take one look at him and you immediately think, "Why can't everyone just be as happy as Cinch?" Besides his perfect disposition, Cinch has a heavy-boned and sturdy structure that is true to the Australian Shepherd breed. He travels well and can trot all day long to keep up with us when we're horseback. He stands 23" tall and weighs 70lbs.
He is normal/normal (clear) for MDR1, DM, CMR1, CEA and CD.
Owned by Janine Sevits
Horse Creeks JJ Dallas Kowgirl - Female
AKC
Meet Dallas! Dallas has matured into a laid back, medium drive dog. She is extremely intelligent and can outsmart us most of the time! She has a joyful, energetic and outgoing disposition and is happiest when she's able to stick her head out the window during a truck rides. She is a full sister to Chassie (litter mates!) yet she is much more ornery - we attribute this to her freckles. Dallas firmly believes that everyone and every dog loves her and wants to play at all times. However, she really is a wonderful dog to introduce to other dogs who may be a little timid - she becomes a mother hen! She has a very exuberant and easy gait that would be sure to stand out in the show ring. She travels flawlessly and sound in every way. She is of medium-heavy bone. She stands 20" and weighs 50lbs.
She is normal/normal (clear) for MDR1, DM, CMR1, CEA and CD.
Owned by Meredith Sevits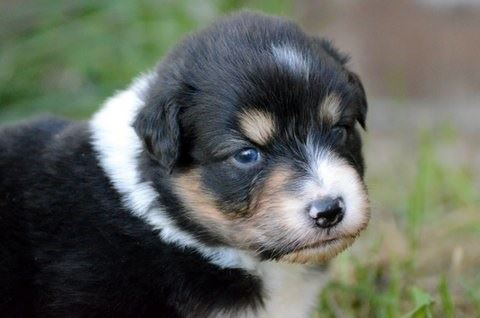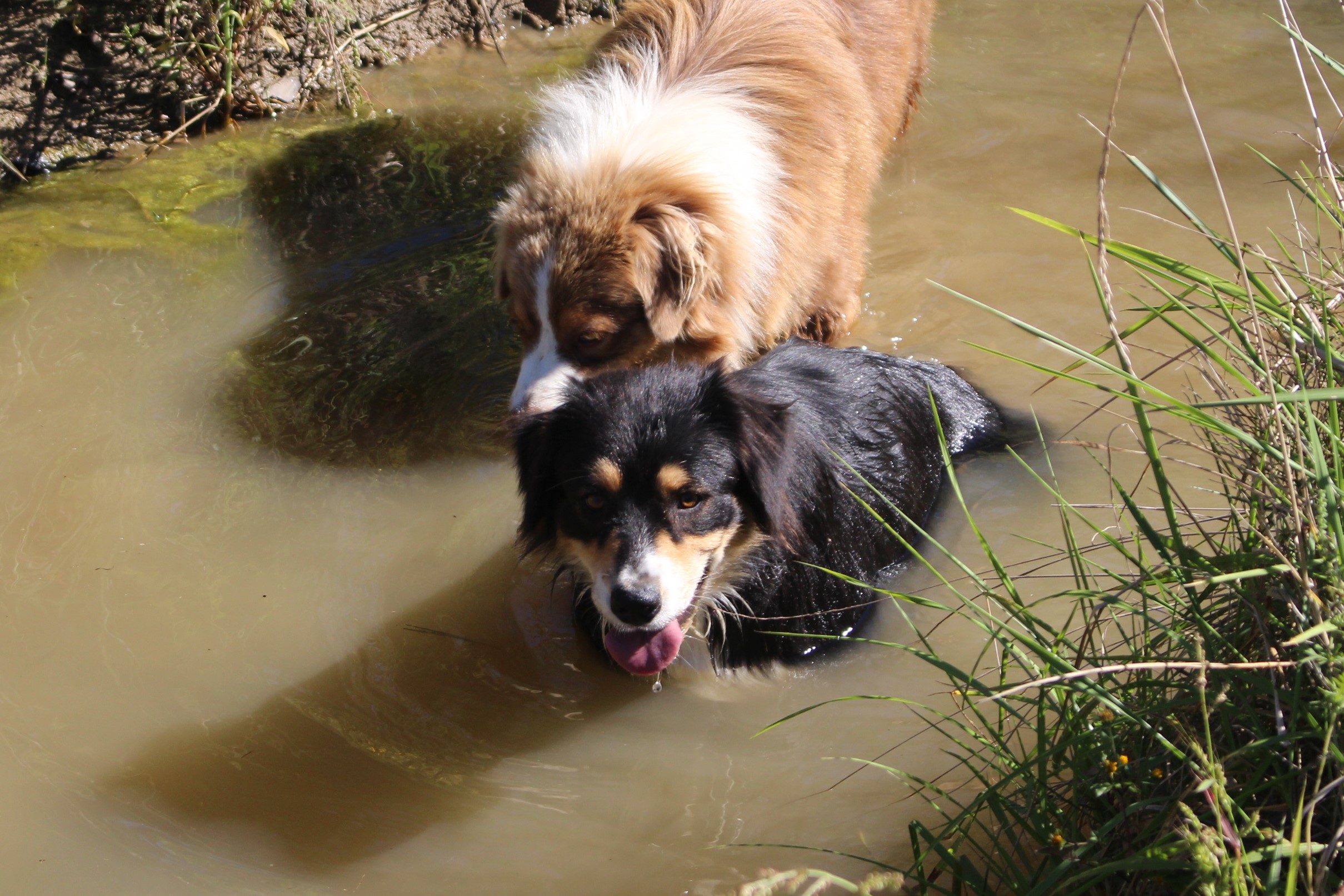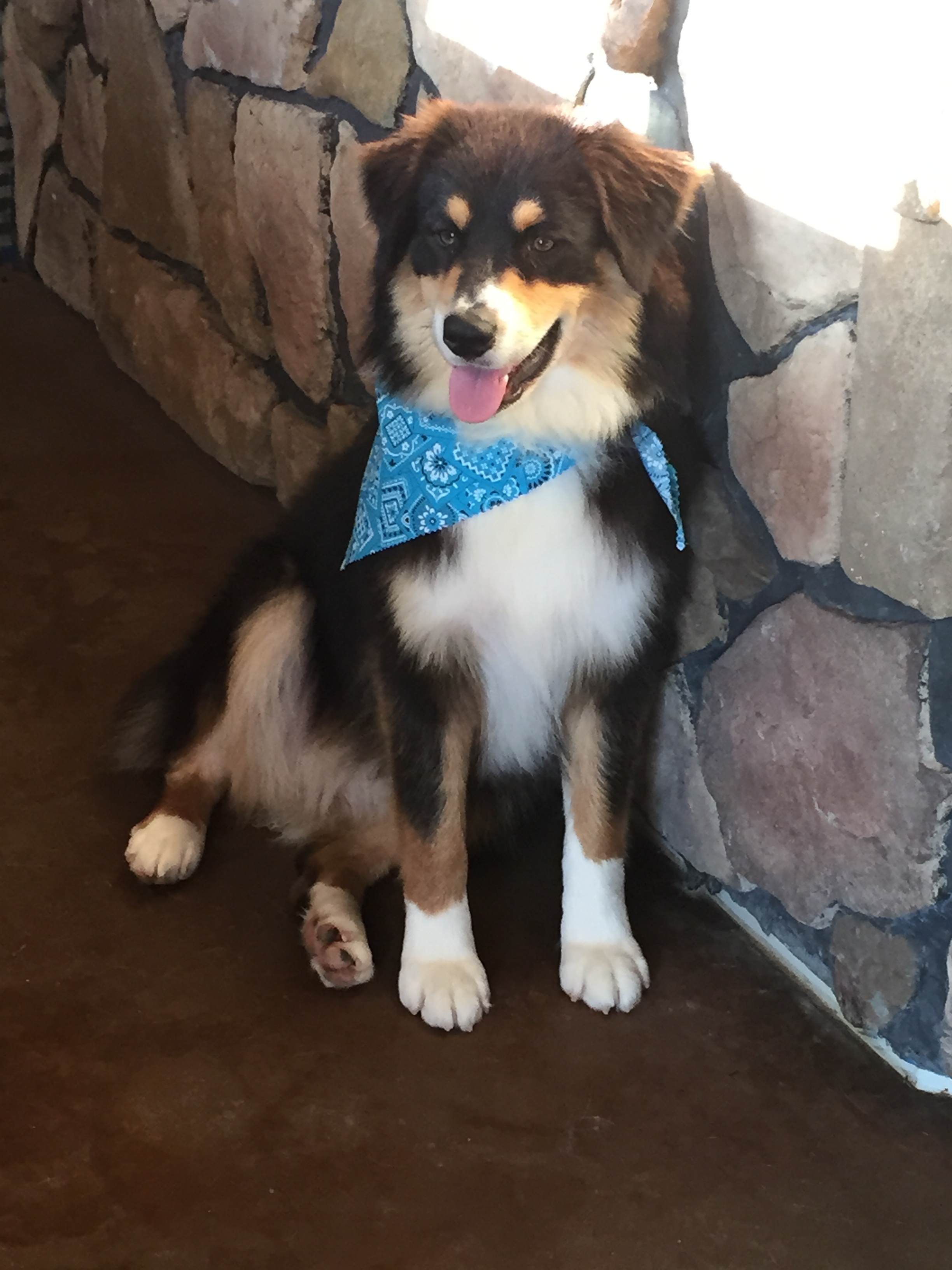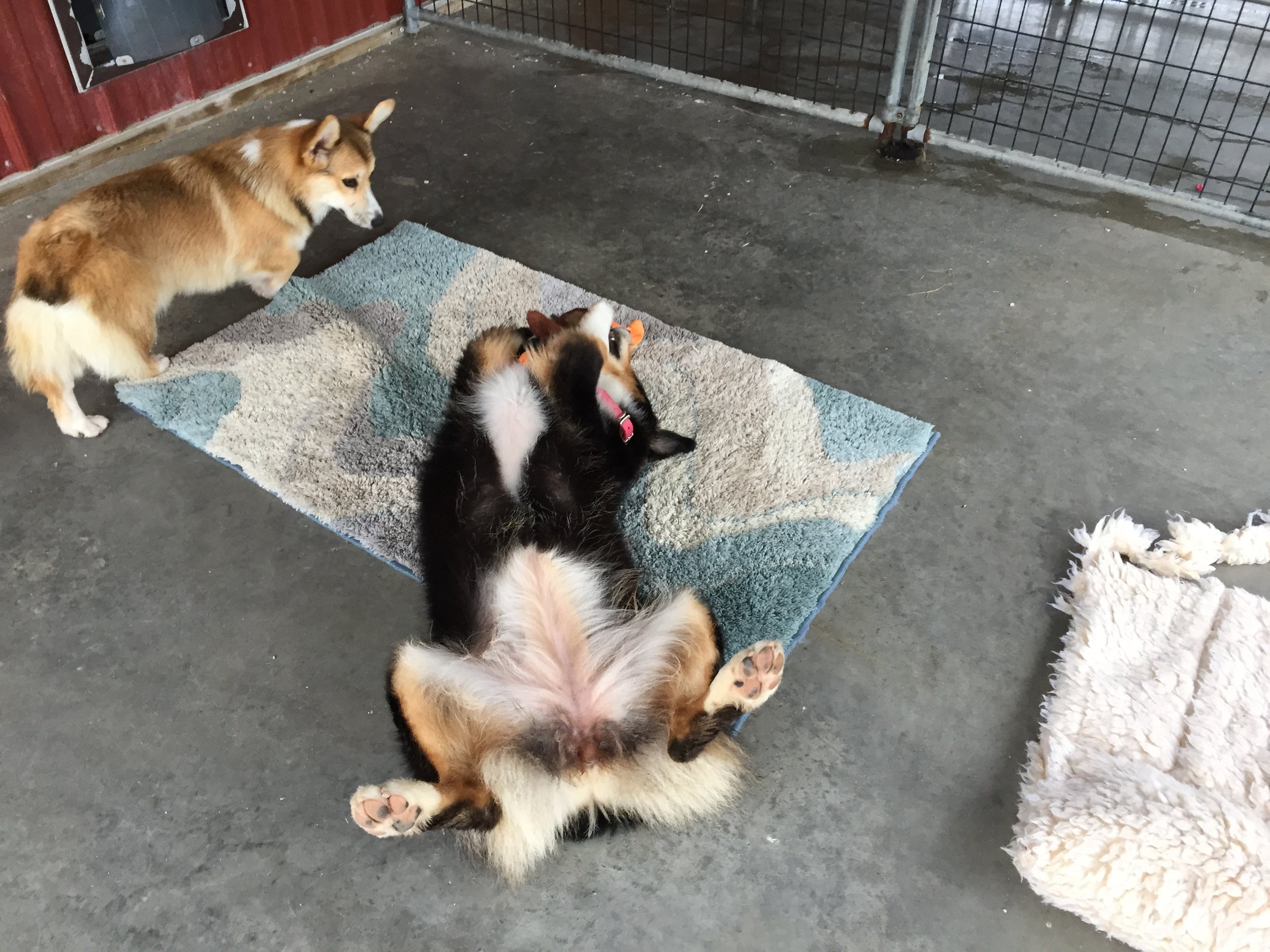 Horse Creek's JJ Loretta's Country Kowgirl - Female
AKC
Meet Loretta! Loretta is a super fun, playful, rowdy and smart girl. She is loyal to the core, typical of the Aussie breed, and loves nothing more to be as close to you as possible. And by that we mean, she literally loves to sit in your lap. Loretta is very expressive with her emotions - when she gets excited she goes to "bucking", kind of like a big, ungraceful steer. It is sure to put a smile on anyone's face! Loretta spent several of her younger months on the show road, participating and doing very well in AKC conformation shows in the midwest. We're glad to have her back in our home, it wasn't the same without her when she was traveling! Her favorite thing is riding on the side by side with Janine in the evenings to go check cows and do other chores. Loretta is very square built with heavy bone. She stands 20.5" tall and weighs 62lbs.
She is normal/normal for MDR1, CD and CMR1. She is normal/mutant for CEA and DM.
Owned by Janine Sevits
JJ One Stellar Kowgirl
AKC
Meet Stella! Sometimes we think we should have named this big girl Hilda or Bertha, because she is a big boned, stout Aussie! Despite her size, Stella maintains a very feminine structure with a beautiful head and perfect ear set. She's got a great personality to go with it and is always ready to be photographed! She's definitely on the more laid back side, lower drive yet always up for an adventure through the pasture with her friends. She is very observant of her surroundings, watches and thinks before she acts- smart girl! She loves her butt scratched and one-on-one time with people. She has a lot of bone, stands approximately 21" at the shoulder and weights 65lbs.
She is normal/normal for CD, CMR1, DM and CEA. She is normal/mutant for MDR1.
Owned by Janine Sevits
IWR Dot T Western Delite - ACA
Meet Dottie! They don't come any more loyal than Miss Dottie. She would prefer the companionship with her humans over other dogs any day. She still loves to play with her sisters but would rather be loved on than rough house. She is a pup we kept back from Gracie and Cinch in hopes that she would possess and pass on her parents ideal temperaments; Cinch's goofy, fun loving personality and Gracie's go gettum attitude and desire to work livestock. She's living a pretty pampered life but she would love to work cows and has the keen mind and athleticism to do so (we're just too protective to let her!).
She is normal/normal for MDR1, CMR1, CD, DM, CEA, HSF4/HC, HUU and PRA-PRCD.
Owned by Janine Sevits
Ironwood's Queen of the West - AKC
Meet Dale Evans! Dale has been a kind and gentle soul since the day she was born. She takes everything new in stride, does not know a stranger and thinks she is a lap dog. We knew she was going to be an outstanding Aussie at a young age. Gorgeous and balanced mover, moderate bone and all the personality you could hope for. She is a bit stubborn, yet sensitive. She is very intelligent and food driven. Once she learns something, she does not forget. She is as bouncy and playful as she is sleepy and lazy. Solid drive with a great off switch! She is out of Dallas and Cinch.
She is normal/normal for MDR1, CMR1, CD, DM, CEA, HSF4/HC, HUU and PRA-PRCD.
Owned by Kaity Sevits
Ironwood's Pardon the Rust - AKC
Meet Bird! She is a puppy that we kept from our last Chassie x Concho litter and she couldn't be a more perfect blend of her parents. Silly, yet extremely loyal and eager to learn and please. She is maturing to be a lovely girl - moderate bone, easygoing gait and excellent off switch! She will lounge all day in the air conditioning only to go out to the pasture with enough tenacity to take on the bulls. We are excited to see how she continues to mature.
She is normal/normal for MDR1, CMR1, CD, DM, CEA, HSF4/HC, HUU and PRA-PRCD.
Owned by Kaity Sevits
Retired at Ironwood Ridge
JJ Rowdy Lady - "Gracie"
Meet Gracie! She is and will always be the head honcho at Ironwood Ridge (and she firmly believes she is also head supervisor at the Hound Around Hotel…). Gracie is as Aussie as they come. The total package of drive, loyalty, athleticism, her and Cinch have produced some spectacular puppies. She may be retired from having babies but there will always be work for her at Ironwood Ridge!
JKS Rusty Ole Chassie - "Chassie"

Meet Chassie! Chasie is full of personality and one of the biggest cuddle bugs ever to have lived! She has given us 4 litters of super biddable, highly intelligent puppies that have gone on to be amazing companions, competitive athletes, as well as service and therapy dogs. She will forever be a helpful mama around here and I'm sure she won't mind babysitting every now and then (human babies and puppies alike!).
Owned by Kaity Sevits
JJ Concho River Cowboy - "Concho"
Gone entirely too soon, we will desperately miss this beautiful, silly boy. Concho certainly stamped his babies with his goofy, yet biddable and loving personality. We are lucky to have been his family for time he was on this earth and blessed to have kept one of his beautiful daughters.